Does everyone know we have a Face Book Page????? There is actually 2 with our name but one is no longer being used so the place to be on Face Book is "New Jersey Needle Artists". Come join the fun as we are starting something new there – Work In Progress Wednesday's. Everyone is invited to upload a picture of what they are working on each Wednesday. Ask a question, look for a stitch or just bask in the glory of everyone ooohing and aaahing at your work so far. We all love a good Show and Tell !!
Get your TV dinner and glass of wine ready – tonight is another needlepoint show starting at 6pm on Face Book courtesy of the lovely owners of Needleworker's Delight in Metuchen NJ. They are once again putting up canvases for sale, one by one during their live event. On the side is a chat that you can claim that canvas as your own or ask a question. https://www.facebook.com/events/869382217187527
I have a correction from last week – The new store Needlepoint By The Bay is actually in Rhode Island. This makes it an even better road trip !!
One of our very favorite people is Trish Vine. You know her from those wonderful project bags she makes for our works of art. She recently moved and is in the process of unpacking BUT she is putting together a video tour of her "amazing new sewing space". She has some new items and is updating the Pop up tray, Carry All case, Booklet Pouch and Needle Keeper. She also will be announcing a contest as soon as she gets the details together. Trish says that she will be at Needlefest this year ! We all look forward to seeing her.
Have you seen Raymond Crawford's new web site? Home – Raymond Crawford Designs – needlepoint, where imagination lives! Very easy to navigate with nice clear pictures of his beautiful designs. The S'Mores and Berry Tart gives me cravings for summer time. If you watched New Stitch Monday by Stephanie at Ridgewood Needlepoint – she did his "Needlepoint" canvas, what a challenge !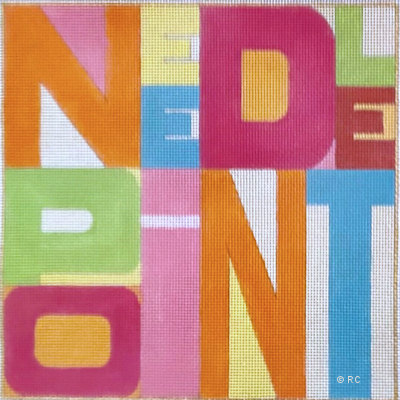 Did you see all the contestants for the sweater contest going on at House of Needlepoint in Darien CT ? One was better than the next. Everyone must have had a fun time doing these as they had everything from the Grinch to Bernie Sanders sitting in a chair with his mittens. Can't wait to see who is the winner as it was a hard choice.